Message from Dave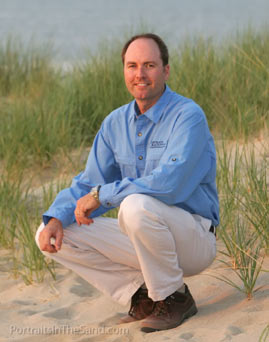 Photography is both my passion and my career. My work has taken me from the West Coast to the East Coast and many breathtaking places in between. Along the way, I have photographed many wonderful families. I love to create family portraits to be enjoyed and admired for generations.
I was fortunate to be a part of photographic sessions as a child, and my own family portraits are now among my most prized possessions. My parents invested the time and money to do it right, and I am so glad they did. I treasure these photos from childhood and share them now with my children.
It is my goal to create for you a similar timeless treasure. Few backdrops are as lovely and decorative as the seashore, and for that I am grateful. I would be honored to be chosen as your trusted family photographer. Please feel free to contact me directly with any questions
Yours truly, David Koster
Master Photographer, CPP
Quick facts about David
David's credentials reveal his expertise; his portraits prove his talent.
With more than 20 years of experience and training, Master and Certified Professional Photographer David Koster creates family portraits that you will treasure for a lifetime.
David is schooled in photography and the only experienced Master and Certified Professional Photographer located at the beach in Southern Delaware. But beyond his credentials, he has the patience, knowledge, confidence and training to capture the best images — the first time — all while working the sometimes challenging outdoor elements to his advantage. With kids of his own, he has mastered the skill of capturing them in their best moments.
Professional photographer since 1990.
Highly trained and widely experiencd, he shows appreciation for portraiture with the beauty of the Delaware beach area.
Master Photographer and Certified Professional Photographers designation from the Professional Photographers of America.
The PPA Certified designation is held by fewer than 2,500 photographers worldwide. One of two Certified Professional Photographers in Delaware, and the only one located at the beach.
Fellow of Photography and an Associate Fellow of Photography in the Delaware Professional Photographers association.
Formal student of photography, holds an Associate of Arts degree in Photography and graduated with honors.
Former photographer and manager at New Wave Studios Telescope Pictures and Photo Magic of Ocean City, MD and Rehoboth Beach, DE.
Videographer for WBOC TV, filming people, news and events
Top photographer at Keystone Ski Resort in Colorado, working for Summit Photography and Sharpshooters.
Manager of Atlantic Color Lab of Rehoboth Beach, DE and Ocean City, MD.
Owner of David Koster Photography before changing company name to Photos/Portraits In The Sand in 2000.
First and only photographer accredited by the Special Kids Photography of America in Delaware to photograph children with special needs.
Member of the elite The American Society of Photographers, dedicated to fostering the ideals of professional photography as a science and an art. Membership is by invitation only to those with a Masters of Photography degree. There is currently less than 1000 members worldwide.
Business owner and member of the Better Business Bureau (with an A+ rating), Delaware State Chamber of Commerce, Rehoboth Beach Main Street, Rehoboth Beach / Dewey Beach Chamber of Commerce , Lewes Chamber of Commerce, Bethany / Fenwick Chamber of Commerce and the Lewes Yacht Club. He also donates his time and services to area organizations and Community Support.
On a personal note . . .
Son of a mother with 13 brothers and sisters. Oldest son of three children. Husband to the lovely Carrie Rest from Potomac, Maryland since 1999. Father to two school-aged children. Enjoys a busy family life that includes the beach, traveling, boating, water sports, sports, scouts, pets, horseback riding, school and church.