Solid Bronze Horseshoe Plate and Granite 4 In. Thick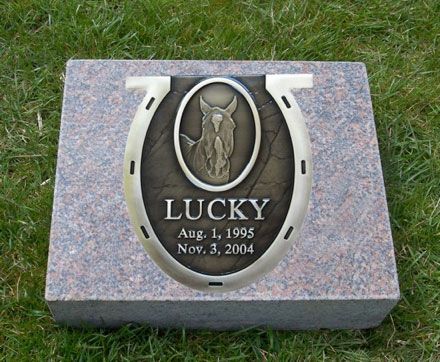 This Pet Memorial Marker features a high resolution casting of your pets image (from your photo or digital picture), along with your personalized text. The image of your pet is transferred onto the solid bronze plate through a patented process with incredible detail. The marker is hand-crafted from solid bronze and mahogany granite to last for eternity. Includes pets name and dates. Additional charges apply for additional text.
This Marker is a full 4" thick and comes in 2 sizes:
Granite Base 12" x 14" x 4" with a 10" x 8" Cast Bronze Photographic Horseshoe $1000
Granite Base 14" x 16" x 4" with a 12" x 10" Cast Bronze Photographic Horseshoe $1200
If this marker is intended for Pet Cemetery Placement; please check with them for delivery information. This marker is quite heavy, approximately 90 pounds, and is best shipped directly to the cemetery.