Engraved Color Photographic Garden Benches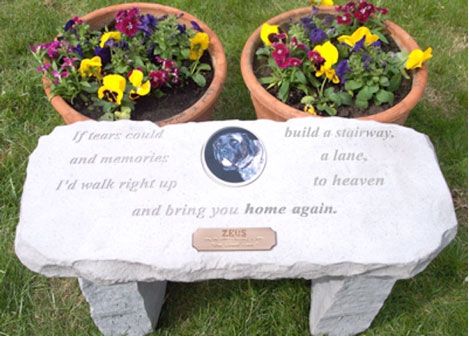 Our Unique Engraved Color Photographic Garden Benches combine our superior quality Garden Benches with a NEW permanent photographic ceramic technology. Our new proprietary technology, combined with the use of inorganic ceramic pigments, guarantees the highest photographic standards for quality of imagery, clarity and durability. All images are Kiln fired into the top glaze of the ceramic plaque, at temperatures in excess of 1600° F.
This Garden Bench comes in one size:
ONE SIZE: 29" x 12" x 14 1/2" , The ceramic photographic tile measures 3 3/4" x 5" $600
Our photo technology guarantees permanent (lifetime) resistance to:
Sunlight (UV) Rays (Will not fade)
Surface resistant to acid rain
Also includes a Brass Finish Plaque inscribed with your Pet's Name and personal message.
(Up to three lines of 18 characters per line)
The Seat of the bench is deeply engraved with the touching sentiment:
"If tears could build a stairway, and memories a lane, I'd walk right up to Heaven and bring you home again."