Kodak's Promise of Excellence Guarantee
The Promise of Excellence Program gives our clients what they're looking for: quality portraits that are guaranteed for life with "Kodak Professional Endura Paper". That's what the KODAK PROFESSIONAL Promise of Excellence Program is all about. We are building consumer confidence by offering high-quality products that are guaranteed for a lifetime by the most trusted brand in the industry.
The POE Program guarantee gives you important assurance that:
• Your portraits are made with the finest KODAK PROFESSIONAL Films, Papers, and Chemicals.• You will be 100% satisfied with the photographic session experience and the resulting portraits at the time of delivery or we will rephotograph, reprint, or refund your money at our expense. (This is our commitment as part of the program.)
• If, at any time after the sale, anything happens to their portraits due to product performance, new ones will be made at no charge, per the terms and conditions of the program. (This is Kodak's commitment.)
• Brand recognition and trust. Promise of Excellence members are associated with Kodak, the imaging brand that clients trust most. The Promise of Excellence Program gives you a world class advantage.
---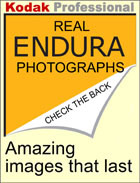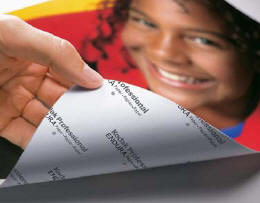 By combining this quality Kodak professional paper with professional developing, you're assured of the very finest silver-halide photograph.