Local Photographer's Work Goes to International Exhibition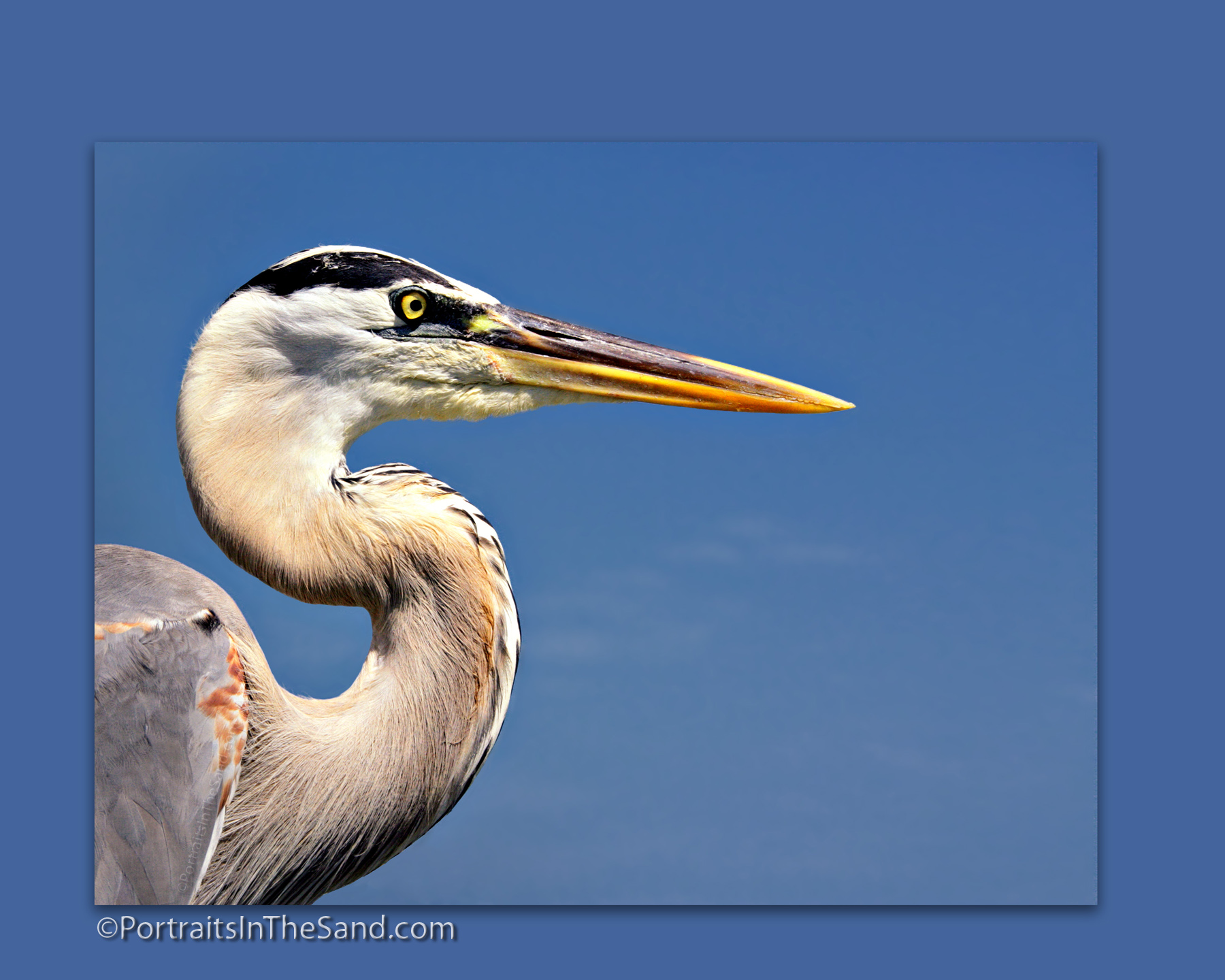 A print of a Blue Heron titled "Stare" created by David Koster CPP of Portraits In The Sand in Rehoboth Beach, DE has recently been accepted into the Collection of Professional Photographers of America's 2009 International Print Competition. Koster's work was on display at the Gaylord Opryland Resort and Convention Center, January 10-12, 2010, in Nashville, Tenn. This exhibition is held in conjunction with Imaging USA, an annual convention of professional photographers and several photographic associations.

A panel of over 40 eminent jurors from across the United States selected the top images from more than 4,300 total submitted entries. Judged against a standard of excellence, almost 1,700 images were selected for the Collection. These images constitute the world's largest annual exhibit of professional photography gathered simultaneously under one roof. The International Print Competition honors the world's best photographic images and photographers.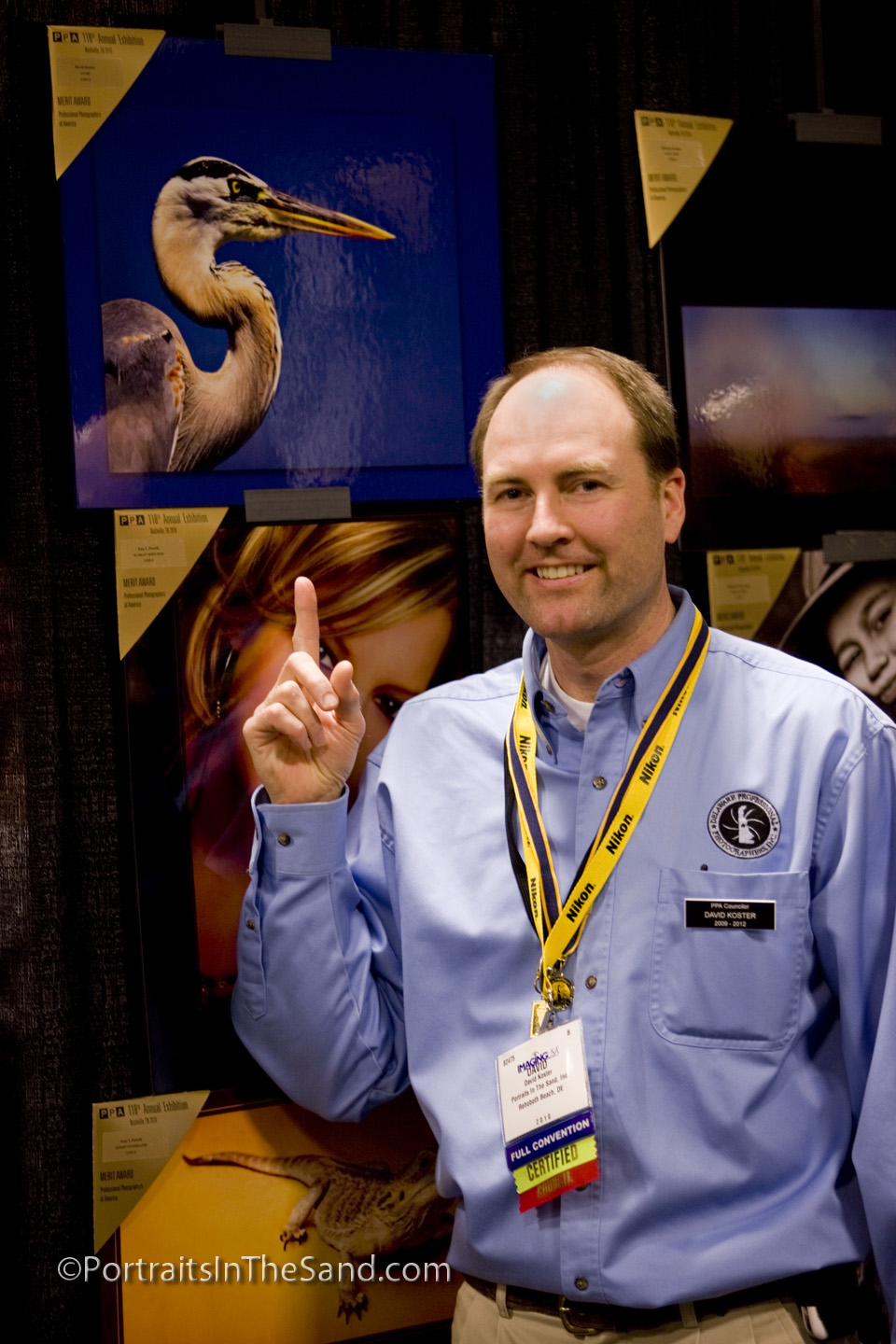 "Many people gather ideas from what they see around them. That's one reason the International Print Exhibit is perfect for the artistic at heart. For professional photographers, it's one of the best places to get inspired to try a new pose or filter and be reminded why they first loved this medium," says Jim Dingwell, coordinator of Professional Photographers of America's (PPA) Photographic Exhibitions Committee.
The images that will be displayed come from around the world and are largely from PPA's prestigious annual International Photographic Competition. "For people in the Nashville area, this is not only a unique opportunity to see amazing art, but also to get a glimpse into our cultures and trends through the eyes of professional photographers, as well as an inside view into the elements that make these images the best in the world," says Helen Yancy, chairperson of PPA's Photographic Exhibitions Committee. "For all we know, the next Ansel Adams or Anne Geddes is represented here."

"A professional photographer who approaches client sessions as if it's an entry for the Print Competition will consistently produce better images, and that will translate into more happy clients," says David Koster. "Even with the recent economic downturn, our business has continued to be healthy. I attribute much of that to our attitude that our images should be in competition," Koster says. "My clients may not be able to tell you the technicalities of why an image merits, but if you show them a professional quality image next to one displaying poor technique, they'll certainly be able to tell you which is which."
"Viewing the exhibit is a moving experience. It gives you such a sense of appreciation for the artistry and skill that go into the creation of an exhibit-quality image," says Jim Dingwell, International Print Competition coordinator. "With the advances in digital cameras, just about anyone can take pictures, but when you see the heirloom quality of the exhibit images, you can visually understand the difference. These professional photographers are truly experts at their craft—the best of the best."
About Professional Photographers of America (PPA)
Established in 1880, PPA is an international non-profit association for professional photographers. PPA exists to assist its 22,000 members in achieving their professional, artistic and fraternal goals; to promote public awareness of the profession; and to advance the making of images in all of its disciplines as an art, a science and a visual recorder of history.

Portraits In The Sand is a full service photography studio specializing in portrait photography. From wallet size to wall décor to web-sites, Portraits In The Sand offers a full product menu, digital enhancement services and a satisfaction guarantee. For more information on Portraits In The Sand, please call toll free (888) 841-9226 or locally (302) 226-9226 or visit www.portraitsinthesand.com.