Local Photographer - Three winning images!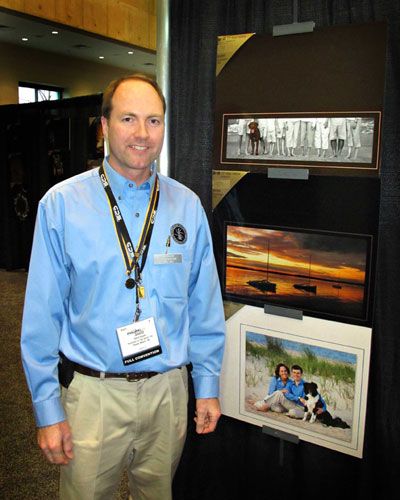 For Immediate Release, February 2011
Local Photographer attends Photographer's Convention in San Antonio with Three winning images in the International Exhibition!
David Koster owner of Portraits In The Sand in Rehoboth Beach recently attended Imaging USA, one of the largest conventions designed exclusively for photography and imaging professionals combining artistic and business education. Over 10,000 photographers attended this three day event in January in San Antonio, TX. It began in 1880 as the annual convention and tradeshow for Professional Photographers of America (PPA) and is the longest running national photographic convention, expo and image exhibition in the United States. The convention featured educational classes for photographers and hundreds of tradeshow booths with an expansive array of photography products. Koster also attended an additional full day workshop on photographing pets.
Renowned among photographers for its intensive educational offerings, Imaging USA classes focus on different photographic specialties and "tricks of the trade" geared towards improving a photographer's business skills, photographic repertoire and use of technologies. Classes run all day with breaks in between so attendees can visit the Imaging Expo where hundreds of the industry's leading vendors showcase their products. The day starts at 7am and goes on until after 9pm every day.

"I look forward to attending this major event each year in a different city," adds David Koster. "As a business man, I can learn more about my profession, elevate my skills and gather new ideas to keep up with the changing market."
Professional photographer David Koster CPP of Rehoboth Beach, DE was also in attendance to represent Delaware along with representatives from all 50 states at the Professional Photographers of America (PPA) Council meeting. A non-profit, international association with over 22,000 members, PPA is ultimately governed by its members through such council representatives.
PPA Councilors are professional photographers who volunteer their time and service to guide and act as the voice for their state's PPA members. Duties include discussing and voting on changes to the Bylaws and Adopted Procedures and the leadership of the association. They also play a crucial role in sharing the PPA message to existing, new and prospective PPA members.
Three of David's prints were recently accepted into the Collection of Professional Photographers of America's 2010 International Print Competition. Koster's work was on display at the San Antonio Convention Center this year. This exhibition is held in conjunction with Imaging USA, the annual convention of professional photographers and several photographic associations.

A panel of over 40 eminent print jurors from across the United States selected the top images from thousands of submitted entries against a standard of excellence. These images constitute the world's largest annual exhibit of professional photography gathered simultaneously under one roof. The International Print Competition honors the world's best photographic images and photographers.

"I keep looking for that next winning image." says David Koster. "Working with such a wide variety of clients gives me the opportunity for new ideas, poses and settings to give a unique look with heirloom quality that really stands out."
Winning images include:
"Brownie" featuring the Adams Family feet on the beach with their Chesapeake Bay Retriever named Sammy from Newtown, PA, Beaver, PA, Dexter, MI and Charlotte, NC.
"Sun Settling Sailors" was taken in Dewey Beach by the Rehoboth Bay Sailing Association. http://www.rbsa.org
"Our Pal" shows Ashley Briggs & Scott Medina with their Border Collie named Dax from Milford, DE posed in the Delaware State Park.

Koster receives a merit for each winning print that goes towards his degree. Only four print submissions are allowed each year. The Master of Photography degree is awarded for superior photographic competence demonstrated through photographic competition, advanced education, and service to the profession. This degree shows that you have mastered your craft and have perfected both the technical and artistic aspects of photography. He only needs two more winning prints to achieve his goal.

Portraits In The Sand is a full service photography studio specializing in portrait photography. From wallet size to wall décor to web-sites, Portraits In The Sand offers a full product menu, digital enhancement services and a satisfaction guarantee. For more information on Portraits In The Sand, please call toll free (888) 841-9226 or locally (302) 226-9226.

Photo with Dave by: Michael Angelo Travisano