Local Photographer Named Silver Medalist at International Photographic Competition
Dave Koster earns the Master of Photography Degree from Professional Photographers of America (PPA)
Rehoboth Beach, Delaware-- David Koster of Portraits In The Sand in Rehoboth Beach, Delaware was named a Silver Medalist during Professional Photographers of America's 2012 International Photographic Competition. He was honored on stage by peers and jurors for high-quality photography and was recognized for superior image making with PPA's Master of Photography degree while attending the International Photographic Convention, Imaging USA in January, during the Grand Imaging Awards and the Awards and Degrees Ceremony at the Georgia World Congress Center in Atlanta, Ga. He was too busy and missed the football championship game between San Francisco and Atlanta being held at the stadium next door.
PPA members receive these medalist designations by earning a merit—a mark of quality and honor—for each of the four images included in their entry case to the International Photographic Competition. This is the most prestigious competition of its kind, where images are judged based on a standard of artistic excellence, not against each other.
The level of the award is determined by how many of those four images receive the highest possible honor: acceptance into the PPA Loan Collection, which is displayed at photographic exhibitions, conventions and other photography events. Koster was named a Silver Medalist, meaning that one of his four merited images also entered the PPA Loan Collection and is published in its book. His winning Loan print is loaned indefinitely to the collection. In 2012, He was one of only about 60 Silver Medalists.
"These photographers have reached a prestigious achievement," states Dennis Craft, PPA's Photographic Exhibition Committee Chairman. "The consistent quality required to earn the title of Silver Medalist in one of the world's most celebrated photography competitions certainly bodes well for their clients, too!"
One of about 2,100 PPA photographers who have earned such a degree...only about 4% of the total membership, Koster's master's degree—and all the expertise it requires—illustrates his accomplishments and talent as one of a select few. This degree is not merely a piece of paper. It means that Koster has met the standards of excellence set by PPA since 1937. He has been awarded the Master of Photography degree in recognition of his superior photographic competence demonstrated through success in photographic competition, advanced education and service to the profession. With over 70 merits earned, he also qualifies for and additional Bar on his ribbon to go with the Master's metal. More about PPA Program here.
David was also invited into The American Society of Photographers (ASP) which is dedicated to fostering the Ideals of professional photography as a science and an art. Membership is by invitation only to those with a Masters or Craftsman Photography degree. There are currently less than 1000 members worldwide. He was introduced and welcomed into the society at their annual banquet after the convention.
"Over the years, we have attended many conventions, but the highlight of each year was and still is attending Imaging USA," adds PPA President Tim Walden. "The education everyone has access to here is nearly unlimited, from speaker after speaker presenting their messages, to when friends come together and share."
And when inspiration is picked up by a photographer, all his clients benefit! David again has expanded his skills by attending one of the longest running professional photographic conventions in the United States. He joined thousands of industry professionals attending this event. Photography classes here focused on different specialties and "tricks of the trade" geared toward improving business and photographic skills. Education expanded beyond the classrooms at Imaging USA, too. The Imaging EXPO trade show highlighted hundreds of the industry's leading vendors showcasing their products, and Koster was able to watch product demos and pick vendors' brains for the best solutions. New things are always in store for clients of Portraits In The Sand after David's attendance at Imaging USA. He is able to bring some of the finest photographic products and services right here to Delaware that doesn't come from other competitors at the beach. Photography is not a static industry; new techniques and technologies always appear. The actions he takes to earn merits and degrees will help keep him abreast of the changes, and prove that knowledge to others. Reaching a certain status point in the industry increases the trust that others put in his ability and keep him at the top of the profession.
"Anyone can take a picture of someone, it takes the true professional to use their skills, talent, knowledge and proper training to create a portrait that enhances the subject's natural beauty. A picture doesn't have to add ten or more pounds. With the proper lighting, posing, adjusting, toning and digital enhancements, people can look younger, slimmer and GREAT. See more of what www.PortraitsInTheSand.com can do for you on the web." Koster explained.
Imaging USA began in 1880 as the annual convention and trade show for what would become known as Professional Photographers of America, and it's the longest running photographic convention, expo and image exhibition in the United States. Attended by thousands of professional photographers and industry experts across the globe, Imaging USA combines education, networking and trade show deals to create a place photographers flock to for inspiration and growth. For more information, visit www.imagingusa.org .
Professional Photographers of America (PPA) is the largest international non-profit association created by professional photographers, for professional photographers. Almost as long-lived as photography itself, PPA has roots back to 1869. It has never stopped growing and looking for new ways to assist its now 25,000 members through protection, education and resources for their continued success in the industry. See why photographers love PPA at www.ppa.com.
David Koster is schooled in photography, and the only experienced Master and Certified Professional Photographer located at the Beach in Southern Delaware, DE. Portraits In The Sand is the Delaware Beach Portrait Specialist by award winning Master and Certified Professional Photographer David Koster in Deleware, Rehoboth Beach, Lewes, Dewey, Bethany and Fenwick Island, DE, USA. His subjects include families, children, seniors, individuals, couples, brides, engagements, pets, reunions, groups, events, boats and more. Please call 302-226-9226 for reservations and information.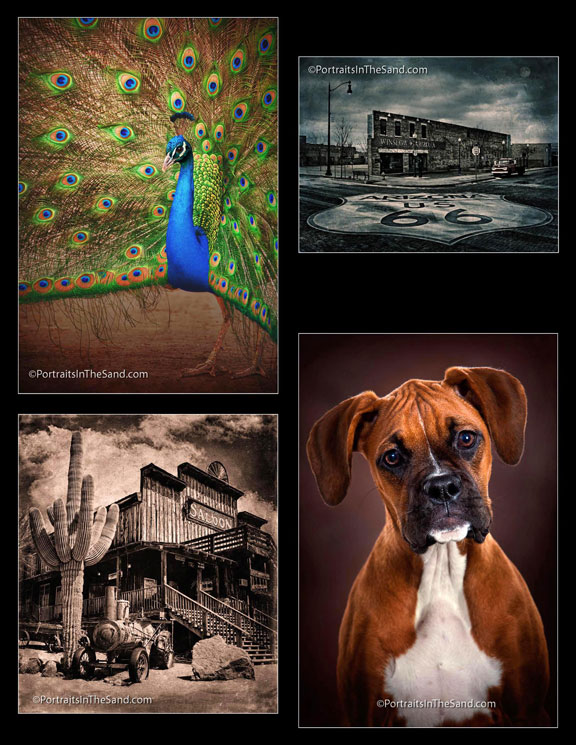 "Pretty As A Peacock" was taken at the San Diego Zoo in California, "Days Gone By" was taken on Rt 66 in Winslow, Arizona," Watering Hole" was taken at the Goldfield Ghost Town in Goldfield, Arizona near the Lost Dutchman's Gold Mine and "Cookie?" was taken of a Boxer named Cider in the studio at Portraits In The Sand. "Those were some of my favorite of 8000 images I took on a family cross country road trip in 2011 that lasted about five weeks." Koster explained.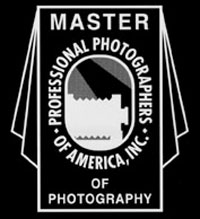 The Master of Photography degree metal and logo.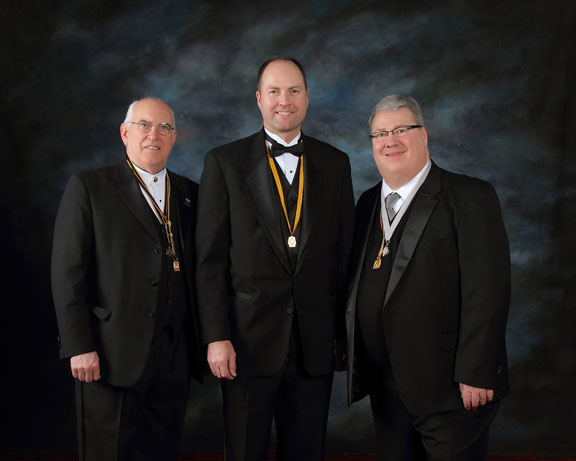 John Shipman (Past President of the Delaware Professional Photographers), sponsored David Koster (Owner of Portraits In The Sand in Rehoboth Beach, Delaware) The Master of Photography degree presented by Tim Walden (President of the Professional Photographers of America) at the association's annual convention, Imaging USA, held January, in Atlanta, Ga.