Koster Print Wins State Honors
FOR IMMEDIATE RELEASE
San Antonio, Texas & Dover, Delaware – A print created by David Koster of Portraits In The Sand of Rehoboth Beach, Delaware has recently been accepted into the Collection of the 115th International Exhibition of Professional Photography. The print titled "Sandy Sunday" featured Jack and Lisa Dagget and dog Molly of Rehoboth Beach.
Koster's work was on display at the Henry B. Gonzalez Convention Center January 14-16, 2007, in San Antonio, TX. This exhibition was held in conjunction with Imaging USA, Professional Photographers of America's annual convention.
Approximately 5,000 entries were submitted to PPA's International Print Competition, from which a panel of more than 40 eminent photographers from across the United States selected the images that would comprise the 2006 General and Loan Collections. "Sandy Sunday" was shown in San Antonio alongside approximately 4,000 other photographic works from not only PPA's print competition, but also traveling and special invitational displays. Altogether these images will constitute the world's largest annual exhibit of professional photography gathered simultaneously under one roof.
Koster's print was judged by the Photographic Exhibitions Committee (PEC) of PPA using the 12 elements known as the "gold standard" to define a merit image. PEC trains judges to be mindful of these elements when judging images to the PPA merit level and to be placed in the International Print Exhibit at the annual convention. The use of these 12 elements connects the modern practice of photography and its photographers to the historical practice of photography begun nearly two centuries ago. The twelve elements have been defined as necessary for the success of an art piece or image. Any image, art piece or photograph will reveal some measure of all twelve elements, while a visually superior example will reveal obvious consideration of each one. They are: impact, creativity, style, composition, print presentation, center of interest, lighting, subject matter, color balance, technical excellence, technique and story telling.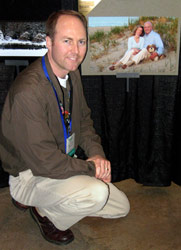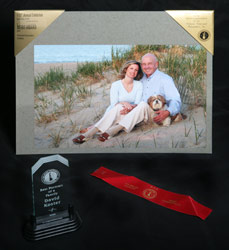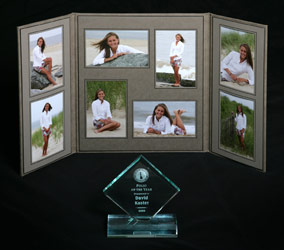 In addition to receiving a National merit from PPA, the Dagget's portrait, "Sandy Sunday" was named the "Best Portrait of a Family" from the Delaware Professional Photographers from the year 2006. The DPP also awarded "Folio of the Year" for 2006 to Koster for a folio series featuring Lindsey Hazlett, a senior from Washington, DC.
Koster is a Certified Professional Photographer with the Professional Photographers of America, an international association that exists to assist its more than 16,000 members in achieving their professional, artistic and fraternal goals; to promote public awareness of the profession; and to advance the making of images in all of its disciplines as an art, a science, and a visual recorder of history. In recognition of their achievements, PPA members receive one merit certificate for each entry into the General Collection. These merits can be applied toward degrees granted by the association. The Certified PPA designation is held by fewer than 2,500 photographers worldwide.
Portraits In The Sand is a full service photography studio specializing in portrait photography. From wallets to walls to web-sites, Portraits In The Sand offers a full product menu, digital enhancement services and a satisfaction guaranteed promise. For more information on Portraits In The Sand, please call toll free (888) 841-9226 or locally (302) 226-9226.