World's Largest Annual Photography Exhibition and Convention
Carrie and David Koster CPP of Portraits In The Sand in Rehoboth Beach, Delaware recently attended Imaging USA 2008, the largest convention and expo designed exclusively for photography and imaging professionals. About 9,000 photography enthusiasts attended this six-day event January 3-8 in Tampa, Fla.
Two portraits created by Dave were recently accepted into the Collection of the 116th International Exhibition of Professional Photography in Tampa, Florida. Representing the diverse elements of professional photography and digital imaging, this year's exhibition featured more than 2,500 images from the PPA Collection of the best and brightest photographers. These select images were chosen from more than 6,000 entries to PPA's annual Print Exhibition The world's largest and longest-running annual photography exhibition and competition draws some of the world's most prominent image makers. Images for the Collection were chosen by a panel of more than 40 eminent photographers from across the United States. PPA members receive one merit certificate for each entry into the Collection. These merits can be applied toward degrees granted by the association.
The Photographic Exhibitions Committee (PEC) of PPA uses the 12 elements below as the "gold standard" to define a merit image. PEC trains judges to be mindful of these elements when judging images to the PPA merit level and to be placed in the International Print Exhibit at the annual convention. The use of these 12 elements connects the modern practice of photography and its photographers to the historical practice of photography begun nearly two centuries ago.
Twelve elements have been defined as necessary for the success of an art piece or image. Any image, art piece or photograph will reveal some measure of all twelve elements, while a visually superior example will reveal obvious consideration of each one. They are: Impact, Creativity, Style, Composition, Print Presentation, Center of Interest, Lighting, Subject Matter, Color Balance, Technical excellence, Technique, Story Telling.

"Nobody, no other convention, does a better event for professional photographers than Imaging USA," commented Jack Reznicki, PPA President.
With more than 60 programs designed to improve artistic and business success, Imaging USA helped attendees increase their knowledge and skills in all photography specialties. These programs focused on topics from traditional portrait techniques to the latest advancements in digital imaging, along with critical business education. Imaging USA also featured the Imaging Expo, a tradeshow with over 600 booths, highlighting the latest in photographic equipment, supplies, and services from the industry's top vendors.
Imaging USA has established itself as the first major photographic event of the year. It began in 1884 as the annual convention and tradeshow for Professional Photographers of America and is the longest running national photographic convention, expo and image exhibition in the United States. In 2006, Imaging USA also welcomed Adobe as an official sponsor of the Adobe Photoshop and Lightroom for Photographers track, a sponsorship that continues today. For more IUSA information, visit www.imagingusa.org.
Koster is a Certified Professional Photographer with the Professional Photographers of America, an international association that exists to assist its more than 18,000 members in 64 countries in achieving their professional, artistic and fraternal goals; to promote public awareness of the profession; and to advance the making of images in all of its disciplines as an art, a science, and a visual recorder of history. The Certified PPA designation is held by fewer than 2,500 photographers worldwide and only 12 in Delaware.
Portraits In The Sand is a full service photography studio specializing in portrait photography. From wallet size to wall décor to web-sites, Portraits In The Sand offers a full product menu, digital enhancement services and a satisfaction guarantee. For more information on Portraits In The Sand, please call toll free (888) 841-9226 or locally (302) 226-9226.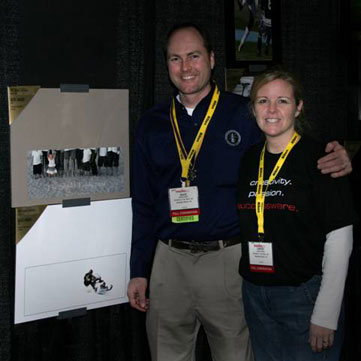 David and Carrie Koster pose with his merit winning images
"The Shrubb Family" and "Hangin' On" while they were on display at the
116th International Exhibition of Professional Photographers.